Highlights
Chris' picture editing and musical score were featured in the Vancouver Pavilion main screen show for Expo 2010 in Shanghai, China. Chris also opened Predator Communications which produces a wide variety of multi-media projects.
In all his spare time, Chris continues to keep the band rocking (Still Living at Home), winning the Battle of the Bar Bands four times in recent years.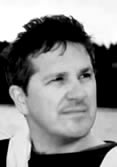 Bio
Chris started his musical career playing trumpet, then on to double bass in stage band. Performing nightly at the fabled Kublai Kahn Supper Club at the ripe old age of 16, was another part of Chris's musical education. Then, a stint with various heavy rock tribute bands lead to schooling in recording technology and work at Post Modern Sound, where he worked on many large-scale corporate soundtracks. This path eventually led him to a successful career in film and television, working on a long list of TV series, including "Highlander" (two Golden Reel nominations), "The Adventures of Black Stallion", "Nightman" (Leo nomination) and recording the orchestral score for "MacGyver".
For the past twelve years, Chris has worked as a film composer and picture editor, winning a Leo award and a Genie nomination for the score for the Anne Wheeler film, "Suddenly Naked". He also received nominations for "Heart of the Dragon", "The Foursome" and Larry Blamire's "Trail of the Screaming Forehead". Other credits include "Moving Malcolm", "I Accuse", "The Wisher", "The Falling", "Premonition" and "Christina's House".